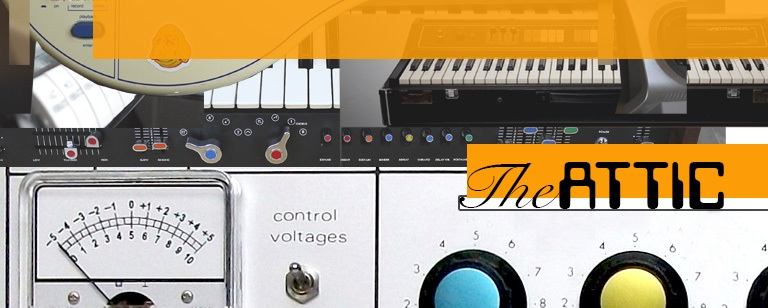 Do You Dream In Analogue?
The Attic : a project to document and sample interesting, characterful instruments that may not always be the obvious choice when we think of classics.
Instruments which, when added to a track, instantly add some special magic, even if it is due to the fact that it sounds a bit cheap or quirky.
We asked around some friendly producers: Neil Davidge, Adrian Utley and Liam Howe were all happy to open up their attics to us, and the resulting collection is a fascinating journey into the corners early analogue synthesis, offering a huge palette of sounds to reach into when you need colour, character and exuberance.
THE INSTRUMENTS
• 10 different virtual instruments in one package.
• Meticulous sampling : every single note from each orginal unit is recorded, capturing all the variation and inconsistencies that make vintage analogues so appealing.
• Modelled analogue behaviour : oscillator drift, natural attack variation, custom chorus and ensemble effects, mono mode & legato
• Extensive effects section with bespoke convolution effects, phaser/chorus/delay, compression, EQ, filters, amp modelling, overdrive etc.